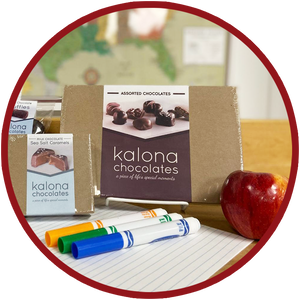 TEACHER APPRECIATION | Chocolate Gift Box
The end of the school year is quickly approaching! In these times of change, one constant remains. Teachers love for your children. They have adjusted quickly to distance learning and miss your children greatly! The special teachers, associates, school nurses, school counselors, custodians, kitchen help, office staff, bus drivers, coaches, and administrators also love and miss your children. They all look forward to the day when they are reunited again.
These gift boxes are meant to show your appreciation for your children's biggest supporters! Include a custom "Thank You" message at checkout in the box labeled "Special instructions or a special note to include if your order is a gift." We'll include this note with the chocolate box.
You can either ship this gift box directly to your teacher or pick it up at our store and deliver it yourself!
ASSORTED CHOCOLATE BOXES INCLUDE:

4 Piece Box
Includes: tadpole (caramel + pecans), english toffee, sea salt caramel, & chocolate truffle

8 Piece Box
tadpoles (caramel + pecans), english toffee, caramels, sea salt caramels, chocolate truffles, peanut clusters

15 Piece Box
Includes: tadpoles (caramel + pecans), english toffee, caramels, sea salt caramels, peanut clusters, raspberry truffles, double chocolate truffles, mint truffles, orange truffles, coconut truffles
---