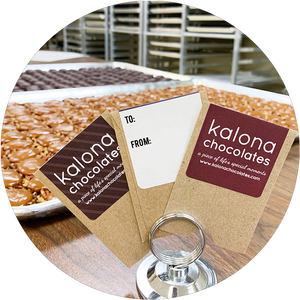 Gift Card for Kalona Chocolates Store
 Give the experience of visiting our chocolate store and kitchen!
Gift cards can be redeemed any time in our store at 211 5th Street  Kalona, Iowa.
Gift cards can also be redeemed through mail order.
To place a mail order: call us at 319-656-3839 OR email us at lyndonh@kalonachocolates.com.
*At this time, gift cards can not be redeemed through our online store.
---