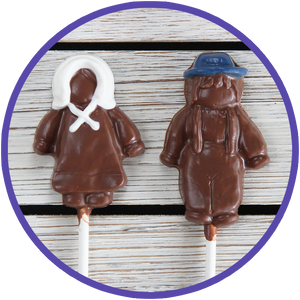 CHOCOLATE LOLLIPOPS | Amish boy & Amish girl
These cute 'lil chocolate lollipops are a hit for anyone who loves Kalona and our Amish community!
These molded chocolate lollipops are inspired by our Amish and Mennonite heritage. They're made with our quality milk chocolate and bring a smile to anyone who grew up on a gravel road with horses & buggies passing by.
---
We Also Recommend
---