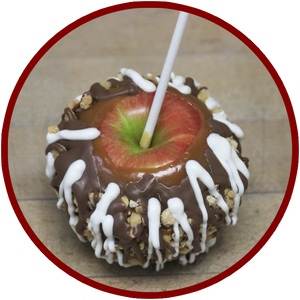 CARAMEL APPLE - local pickup only
Fresh 

g

ala
 

apples, hand-dipped in caramel and chocolate.
Available September 22nd - 24th


We make caramel apples for only 1 week of the year! Caramel Apples are available for Kalona pickup only (sorry no shipping available at this time). Pre-order yours and select a pickup date - to be sure you get this yummy taste of fall.


In-Store Pickup or Curbside Pickup is available! Pickup hours are Thursday September 22nd, Friday September 23rd and Saturday September 24th: 10am - 4pm.

𝐂𝐡𝐨𝐨𝐬𝐞 𝐥𝐨𝐜𝐚𝐥 𝐩𝐢𝐜𝐤𝐮𝐩 𝐚𝐭 𝐜𝐡𝐞𝐜𝐤𝐨𝐮𝐭.
---
We Also Recommend
---